3rd Webinar

| Save the date: 30th October (12.30 PM Portugal | 1.30 PM Belgium)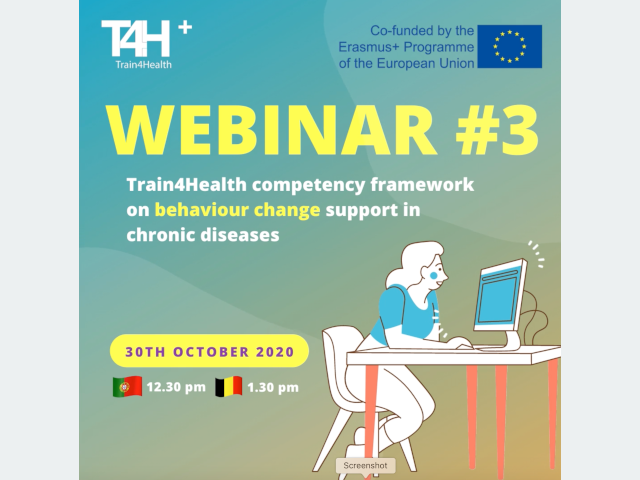 30th October (12.30 PM Portugal | 1.30 PM Belgium)
We are delighted to announce our 3rd webinar!
In this 90-minute webinar, we will present the Train4Health competency framework on behaviour change support in chronic diseases, followed by a round table discussion on moving forward behaviour change support in practice. One of our distinguished guests will be Dr. Michael Vallis.
Dr. Vallis is a registered health psychologist practising in Halifax, Canada. He is a Health Behaviour Change Consultant and Associate Professor in Family Medicine at Dalhousie University. His main areas of expertise are diabetes, obesity, cardiovascular risk and gastroenterology. He has worked in the public health system for 35 years and is now working as a consultant and doing private practice. He regularly supervises clinical and academic students at Dalhousie and is active in research on motivation, behavioural change and psychosocial adaptation to chronic disease.
He consults nationally as well as internationally and is heavily involved in journal editing, clinical practice guidelines and academic publications. He was recently awarded a Queen's Diamond Jubilee Medal by the Government of Canada on the recommendation of Diabetes Canada.
You can register on this link.
Closer to the date, you will receive a confirmation email with the link to join the session. If you have any questions email us at train4health@esel.pt